Skip to main content
Electric Cooktop Burner Operation
Topics:
Electric Cooktop burner function
Will a burner heat without a pan?
Burner heats with no pan on it
Triple zone burner halo effect
Answer:
To turn on an Electric Cooktop burner:
1. Touch ON/OFF for the desired single element on the control panel. Power level indicator will flas,h and all indicators for that zone will flash.
2. To complete the activation, touch HI for highest heat, SIM (MLT) for lowest heat, BOOST (induction) to turn on boost mode, or touch desired power level indicator.
3. To change the heat setting while the element is on, touch or slide to desired power level.
4. To turn the element off, touch ON/OFF.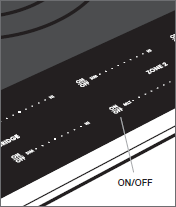 Electric Cooktop burners produce heat when they are turned on, even without a pan on the surface.
Some residual heat is present after use.
See also:
On the large triple ring burner, when operating all three zones, the outer ring will glow brighter than the two middle rings. This is normal.
DID THIS ANSWER YOUR QUESTION?

We're standing by with answers
Whether you're shopping for appliances or have questions about those you already own, we've got the resources you need. Talk directly to a customer care expert at the Sub-Zero, Wolf, and Cove service center, or connect with an appliance consultant at an official showroom near you. Get quick answers online, or reach a certified service provider or installer. And much more.
Call us at (800) 222-7820