Skip to main content
Convection Steam Oven Rack and Rack Guide Position
Topics:
Convection Steam Oven (CSO) rack or rack guide position
Which way to face pans in Convection Steam Oven
Which direction to place CSO racks, pans, or rack guides
The oven racks can be placed in any of the four positions that are labeled on the right front face of the Convection Steam Oven.
For older, knob control CSO models only: The open end of racks should face the front of the oven, while the closed edge faces the back.
See also:
CSO pans should be placed in the slots in the rack guides just like oven racks.
The slanted edge of the pan faces the back, while the square edge faces the front. This helps with heat circulation in the oven.
See also, Convection Steam Oven Pans.
In all CSO models, the indentation on the vertical edge faces toward the front of the oven.
In newer, touch control CSO models only:

Rack guides should be oriented so the indentations on each level face upward, as shown in the image below.
The rack guides are designed so that the back edges of CSO pans or racks catch on the indentations. These hold them in place while rotating food or checking doneness.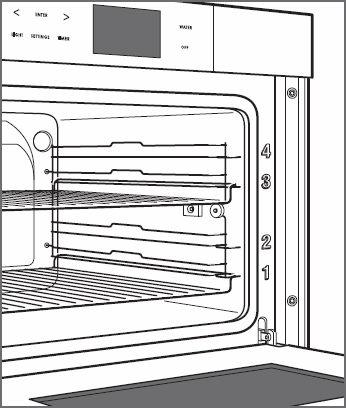 DID THIS ANSWER YOUR QUESTION?

We're standing by with answers
Whether you're shopping for appliances or have questions about those you already own, we've got the resources you need. Talk directly to a customer care expert at the Sub-Zero, Wolf, and Cove service center, or connect with an appliance consultant at an official showroom near you. Get quick answers online, or reach a certified service provider or installer. And much more.
Call us at (800) 222-7820