Skip to main content
Convection Steam Oven Water Tank
Topics:
How many cups of water should be added to the CSO tank?
How long will one tank of water last when using the Convection Steam Oven?
What does the "fill water tank" message on the CSO mean?
Does the CSO power off automatically if the "fill water tank" message is ignored?
How much water does the CSO tank hold?
How long will the water last in the steam tank?
Answer:
The CSO water tank holds approximately 4 cups of water.
There is not a fill line on the water tank.
The top lid fits tightly on the water tank but is removable.
Pull up to remove the lid.
If the water tank is stuck in the opening, wiggle it back and forth while pulling out to release it.
One tank of water provides approximately 90 minutes of continuous steam.

Most modes do not use continuous steam, so actual cooking time on one tank may be longer. For example, Slow Roast uses steam but not in a continuous flow, so one tank of water may last several hours.
Refer to Convection Steam Oven Cooking Modes for more information on which modes use steam and when.

In the event that the unit does run out of water, "fill water tank" will appear on the display screen.
Add no more than 2 cups of water to prevent overflow when the unit pumps water from the boiler back into the tank.

There is a baffle in tank to prevent water from splashing when filled.
Unless the Convection Steam Oven is used daily, the water tank should be emptied after each use and allowed to dry.
1. Open the water tank door by pressing the WATER button.
Always use the WATER button to open the water tank door.
Accessing the water tank manually will damage the oven.
2. Remove water tank lid, and fill with fresh, cold tap water. Do not use demineralized, filtered, or distilled water.
Lift the lid straight up to remove.
Mineral deposits may make the lid difficult to remove.
The water tank holds enough water for approximately 90 minutes of continuous steam, typically enough for 4–5 cooking sessions.
3. Replace lid, and push water tank into its compartment and make sure it is seated firmly.
There is no front or back to the lid, it fits either way.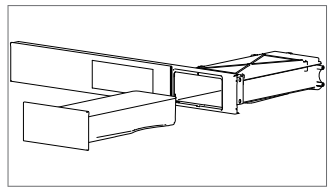 4. Manually close water tank door.
If these troubleshooting steps do not resolve the issue, service is necessary to expertly diagnose and repair the product. Contact Factory Certified Service to schedule an appointment for repair.
DID THIS ANSWER YOUR QUESTION?

We're standing by with answers
Whether you're shopping for appliances or have questions about those you already own, we've got the resources you need. Talk directly to a customer care expert at the Sub-Zero, Wolf, and Cove service center, or connect with an appliance consultant at an official showroom near you. Get quick answers online, or reach a certified service provider or installer. And much more.
Call us at (800) 222-7820