Legacy Model - 24" Coffee System - Stainless Steel
Model # EC24/S
MSRP $3,985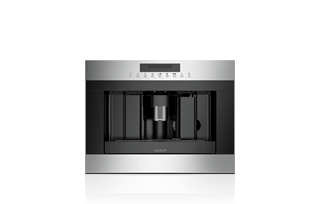 pinch-to-zoom
images-for-reference
This is a legacy model with limited availability. Contact your local dealer for more details. Please consider one of our new models with updated features and design.
Make all your favorite coffee drinks like a professional; brewed coffee, espresso, cappuccino, and more
Use whole-bean or pre-ground coffee
Brew servings from one ounce to 12 ounces
Eliminates the need for plumbing with a built-in water tank
Grind with a 13-setting built-in grinder 
Water spout dispenses hot water for tea
read-more-label-product-features
Refillable unplumbed water tank
Easy-to-clean drip tray and used grounds container
Removable milk container
overall-dimensions-w-h-d
receptacle
About Sub-Zero, Wolf, and Cove
Wolf Use & Care
Wolf Products
Envision the possibilities
Pro tips
Considerations before you finalize your decision:
Pre-plan important design elements you might like, for example, flush vs. standard installation changes the cutout dimensions and necessary supports
Consider the design flexibility of tower or row installation with other Wolf products
Let's talk
Prefer to discuss the features of Wolf appliances with an expert?
Call us at (800) 222-7820

Experience a showroom
A visit—in person or virtually—to your nearest showroom is the ideal way to see and experience the complete line of Wolf appliances.
For a limited time, earn three additional years of protection or a rebate up to $2,500 with the purchase of a qualifying Sub-Zero, Wolf, and Cove appliance package.
The only dishwasher made to complete the Sub-Zero and Wolf kitchen, Cove ensures spotlessly clean and dry dishes—every time.
Certified installation
Earn an extra full year of warranty coverage and ensure a flawless fit with Factory Certified Installation.