15" Transitional Grill Module
Model # GM15TF/S
MSRP $1,850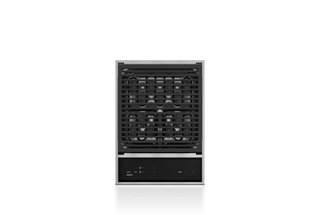 Pinch to zoom
Images are for reference only.
Use independent heating modules to grill multiple items at once
Adds flavor and heat with ceramic briquettes
Pair the slim 15" modules with other modules and full-size transitional framed cooktops
Keep grilling grates discreet and seamless
Program via an illuminated control panel
See all features
Two independently-controlled 1400-watt heating elements
Overall Dimensions: 15" W x 6" H x 21" D
Star-K Certified
Electrical Supply: 3-wire, 240/208 VAC, 50/60 Hz
Electrical Service: 15 amp dedicated circuit
Conduit Length: 4 Feet
About Sub-Zero, Wolf, and Cove
Wolf Products
Envision the possibilities
Pro tips
Considerations before you finalize your decision:
Consider a filler strip for the seamless installation of multiple modules
Let's talk
Prefer to discuss the features of Wolf appliances with an expert?
Call us at (800) 222-7820

Visit a showroom
See the complete line of Wolf appliances at your nearest Sub-Zero, Wolf, and Cove showroom.
For a limited time, when you purchase a qualifying Wolf appliance, add selected Sub-Zero appliances to earn three additional years of warranty protection or a $1,000 rebate.
Custom cycle options, adjustable interiors, customizable exterior finishes, and near-silent operation ensure spotless results—every time.
Certified installation
Earn an extra full year of warranty coverage and ensure a flawless fit with Factory Certified Installation.