Skip to main content
Model 685 and 695 Dispenser Lock Operation
Topics:
How to lock the water and ice dispenser in a 685 model or 695 model
How to unlock the dispenser
Why is the key icon illuminated beneath the light button on the dispenser control panel?
What does the red key icon by the dispenser mean?
Ice or water dispenser does not work
Troubleshooting:
To lock the dispenser:
Press and hold the Light button for 5 seconds to turn on the dispenser lock.

The lock indicator (key icon) beneath the Light button illuminates when the dispenser locks.
Locking the dispenser disables the water and ice dispensing features.

To unlock, press and hold Light for 5 seconds.
If the dispenser does not unlock using the steps above:
Turn the home circuit breaker to the unit off for 30 seconds and back on again.
Retest the unit operation.
If the unit is still locked after these steps are complete, no further customer troubleshooting advice is available. Contact Factory Certified Service to schedule an appointment for repair.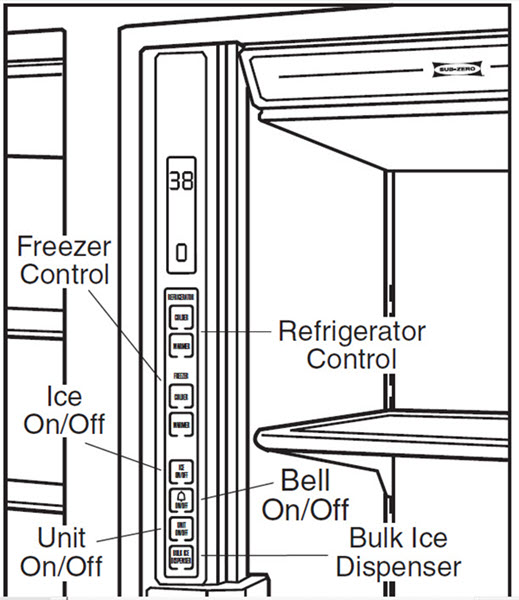 685 and 695 dispenser lock function:
All buttons on the dispenser are deactivated.
The lights will stay in the state they were in before the lock feature was turned on.
For additional information, refer to:
DID THIS ANSWER YOUR QUESTION?

We're standing by with answers
Whether you're shopping for appliances or have questions about those you already own, we've got the resources you need. Talk directly to a customer care expert at the Sub-Zero, Wolf, and Cove service center, or connect with an appliance consultant at an official showroom near you. Get quick answers online, or reach a certified service provider or installer. And much more.
Call us at (800) 222-7820