Skip to main content
Sub-Zero Classic Series Crisper Shelf Removal and Installation
Topics:
How to remove the Classic (BI) crisper shelf
Can the BI crisper shelf be installed backwards?
Install the BI shelf above the crisper drawers
Answer:
The Classic series (BI) crisper glass shelf rests on shelf standoffs that are mounted to the refrigerator side walls.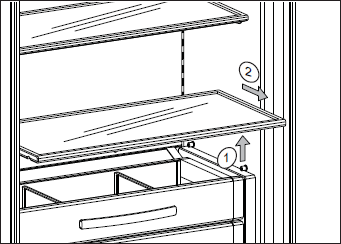 To Remove:
Lift the crisper glass shelf straight up off the standoffs.
Pull shelf forward and out of compartment.

If door is stopped at 90°, the shelf may need to be taken out at an angle.
Removing the door shelves will help in removal.
For the French door model, drawer slides may need to be pushed back manually to provide sufficient clearance for removal.
To Install:
Set the crisper glass shelf back onto the shelf standoffs.
It is not possible to install the shelf backwards.
The channels on the bottom of the shelf will not line up with the standoffs if it is in backwards.
The shelf will sit down on to the standoffs and will not move when properly installed.
Additional Information:
For other shelves, refer to:
Refer to the product Use and Care Guide for further information.
DID THIS ANSWER YOUR QUESTION?

We're standing by with answers
Whether you're shopping for appliances or have questions about those you already own, we've got the resources you need. Talk directly to a customer care expert at the Sub-Zero, Wolf, and Cove service center, or connect with an appliance consultant at an official showroom near you. Get quick answers online, or reach a certified service provider or installer. And much more.
Call us at (800) 222-7820