Skip to main content
Sub-Zero Interior Cantilevered Shelf Removal and Installation
Topics:
Remove or install an interior Sub-Zero shelf
Cantilevered shelf removal and installation
Take an interior cantilevered shelf out of a Sub-Zero
Put an interior cantilevered shelf back into a Sub-Zero
Answer:
Sub-Zero Classic Series (BI) - Interior Configuration

Most Sub-Zero units a cantilevered shelf and ladder system for interior shelves.
Cantilevered shelves make repositioning quick and easy. They are easy to clean and drip-proof, and they are steel reinforced to provide durability and reliability.
Removing and adjusting shelves is relatively simple if you understand the steps involved in advance.
Always be careful handling glass shelves to prevent breaking or scratching the interior.
To remove or adjust shelves:
Tilt the shelf up at the front, then lift it up and out of the rails on the rear wall of the refrigerator, as shown below.
If the door opens only to 90°, lift and tilt the right end of the shelf up in order to clear the door shelves.
To replace a shelf:
With the front of the shelf raised slightly, insert it into the rails at the rear of the refrigerator.
Push the shelf in and lower the front of the shelf until it locks into position.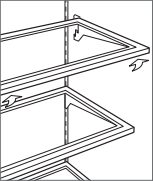 DID THIS ANSWER YOUR QUESTION?

We're standing by with answers
Whether you're shopping for appliances or have questions about those you already own, we've got the resources you need. Talk directly to a customer care expert at the Sub-Zero, Wolf, and Cove service center, or connect with an appliance consultant at an official showroom near you. Get quick answers online, or reach a certified service provider or installer. And much more.
Call us at (800) 222-7820