Skip to main content
Sub-Zero Classic Series (BI) Freezer Drawer Removal
Topics:
How to remove and insert the freezer drawer in a Classic Series (BI)
How to remove the freezer baskets in a BI over-and-under
Can the entire freezer drawer on an over-and-under BI unit be removed?
Answer:
Classic series (BI) drawer removal varies by model. Starting with serial number 4250000, drawers have tab releases along the front edge in the white part of the drawer. Press the tabs to remove the clear drawers.
Classic Side-by-Side Model and BI-36F
To remove the drawer:
Pull the drawer forward until the basket stops.
Pull the two clips behind the bottom front two corners of the basket forward, then lift up and out.

For models BI-36S, BI-42S, BI-42SID, BI-42SD, BI-48S, BI-48SD, and BI-48SID, raise the basket and pull through the opening in the door liner after disengaging.
Drawers can still be removed when a door stop is used. For more information, see Sub-Zero Classic Series (BI) and WS-30 90° Door Stop.

To install the drawer:
Push drawer slides in.
Align the basket with the slides and push it back until it stops.
Press down on the front of the basket to engage slides.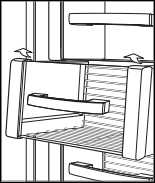 Classic Over-and-Under Models (BI-36U, BI-30U, etc.)
To remove the upper and lower freezer baskets:
Pull upper basket fully forward.
Lift front of basket up slightly, then push upper basket slides back to disengage slide hooks from the slots at rear of basket assembly.
Continue pulling basket forward while lifting it up off the slides.
To remove the lower basket, pull the freezer drawer fully open, and upper basket fully in or removed. 
Lift lower freezer basket straight up, off of the four corner retainers.
To install the baskets:
To install, insert the lower basket into the four corner retainers. See also, 600 and Classic Series Over Under Freezer Basket Retainers.
Position the upper basket onto the side rails and slide it back until it clicks.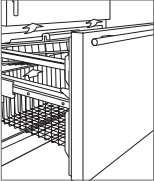 Note: Only the upper and lower baskets in an Over-and-Under model can be removed.
To remove the entire freezer drawer assembly, the drawer must be disassembled from the slides.
Sub-Zero recommends that a service technician disassemble the drawer if necessary.
DID THIS ANSWER YOUR QUESTION?

We're standing by with answers
Whether you're shopping for appliances or have questions about those you already own, we've got the resources you need. Talk directly to a customer care expert at the Sub-Zero, Wolf, and Cove service center, or connect with an appliance consultant at an official showroom near you. Get quick answers online, or reach a certified service provider or installer. And much more.
Call us at (800) 222-7820