Skip to main content
Sub-Zero White Accessory Framed Panel Finish
Topics:
Do the Sub-Zero white enamel framed accessory panels have a matte or glossy finish?
Can the white framed accessory panels be reversed on a Sub-Zero unit?
If there are scratches on the front side of the white accessory door panel, can it be flipped over?
Can Sub-Zero white panels be painted?
Are white door panels available for Classic (BI) Refrigeration units?
Answer:
Panel Installation
Most legacy Classic Series (BI) models have white door panels available for framed applications only. Refer to image below.
Framed white accessory panels can only be used in a framed application. See Framed Accessory Panels.
Only full-length framed handles can be used with these panels. See also, Sub-Zero Accessory Handle on Framed Panels.

Panel Material and Properties
Panels are made of galvanized metal.
White panels are magnetic. Refer to Sub-Zero Magnetic Panels for more information.
Framed white accessory panels for Sub-Zero products are not reversible. Only one side is finished with the white powder-coated paint.
Panel Finish and Color
The Sub-Zero white framed accessory panels are more of a glossy finish than a matte finish.

Sub-Zero white panels are ready to accept any custom enamel or lacquer finish.

To match Sub-Zero white panels, have the panel color matched by a local paint expert.

Contact the Customer Care Center at Sub-Zero to receive a sample of the white powder-coated framed panel.
Contact the Sub-Zero Wolf Customer Care Team at [email protected], or call (800) 222-7820, Monday-Friday, 8:00 a.m. - 5:00 p.m. CST. Contact a Local Dealer for further sales information.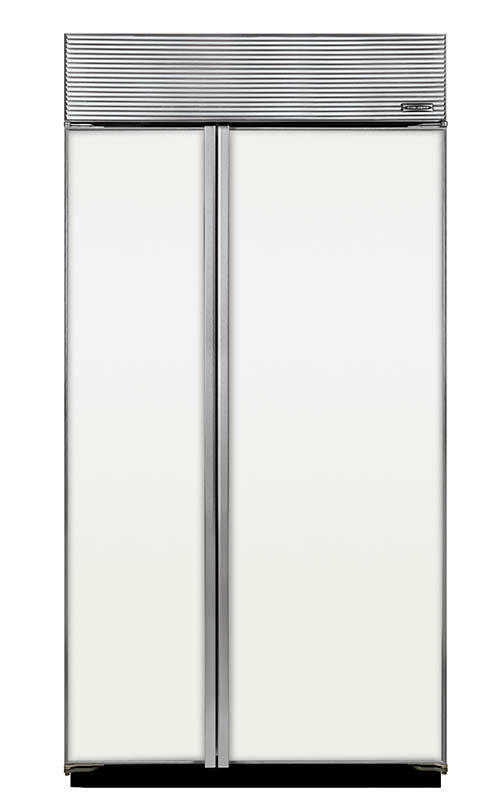 DID THIS ANSWER YOUR QUESTION?

We're standing by with answers
Whether you're shopping for appliances or have questions about those you already own, we've got the resources you need. Talk directly to a customer care expert at the Sub-Zero, Wolf, and Cove service center, or connect with an appliance consultant at an official showroom near you. Get quick answers online, or reach a certified service provider or installer. And much more.
Call us at (800) 222-7820