Skip to main content
Wolf Cooktop Hood Filter Removal and Cleaning
Topics:
How to remove or install the filters from the Cooktop Island Hood or Cooktop Wall Hood
How to clean cooktop ventilation filters
Filter key illuminated
How to reset the Filter icon or light on Cooktop Island or Wall Hood
Answer:
Cleaning Frequency
Clean the Cooktop Hood aluminum mesh filters every month.
Clean more often if cooking with grease, frying foods, or wok cooking.
As a default, the filter clean indicator on the control module illuminates after approximately 30 hours of operation.
To remove and clean the filters:
Push the filter toward the back of the hood and rotate the filter downward, as shown below.
Filters may be placed in a dishwasher or hand washed with a mild detergent or spray degreaser.
When filters are dry, install them.
Reset the filter indicator by pressing the Filter button on the control module.
The control module is on the front edge of the hood. Filter button location varies by model. Refer to the product Use and Care Guide for further information. 
Do not use the ventilation hood without filters. This may cause damage to the blower or other internal components of the hood.
To reduce the risk of a grease fire, clean the ventilation products frequently. Do not allow grease to accumulate on the fan or filter.
Contact a professional cleaning service in your area for further cleaning of grease from ventilation systems.
Some Factory Certified Service providers may clean filters for a cost. Contact them for rates for cleaning.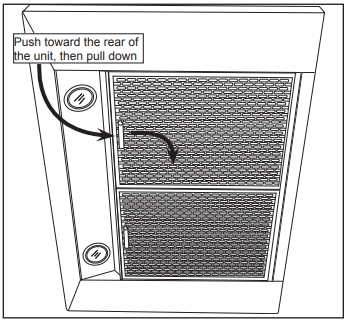 Instructions for Other Wolf Ventilation Products
See the following for instructions on removing the filter on other Wolf Ventilation products:
DID THIS ANSWER YOUR QUESTION?

We're standing by with answers
Whether you're shopping for appliances or have questions about those you already own, we've got the resources you need. Talk directly to a customer care expert at the Sub-Zero, Wolf, and Cove service center, or connect with an appliance consultant at an official showroom near you. Get quick answers online, or reach a certified service provider or installer. And much more.
Call us at (800) 222-7820