Skip to main content
CT Electric Cooktop Lock Mode
Topics:
How to lock or unlock a CT Electric Cooktop?
CTE Cooktop lock icon is red
CT Series Electric Cooktop lock icon blinking or flashing
CT Model Electric Cooktop does not work when power is first turned on, it is locked
Why does the Electric Cooktop lock itself after a power outage?
Can Lock Mode be permanently disabled?
What does 5 hr, 5hr, or Shr mean?
What does SA or 5A mean?
Answer: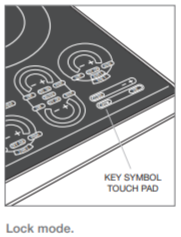 A steady, glowing red light within the Lock key indicates the unit is locked. The unit will be locked when it is powered up for the first time or if there was a power outage. This is normal operation.
Press and hold the Lock key for three seconds.
The unit will beep twice and the light within the Lock key will go out.
The control unit is now in the idle mode.
Press and hold the Lock key for three seconds.
The unit will beep three times and the light within the Lock key will illuminate.
If the lock will not disable, or if the Lock key is blinking for flashing:
Reset the unit's power at the electrical supply source.
Once power is restored, unlock the cooktop.
The Lock feature cannot be permanently disabled.
If the unit will not unlock:
If it is a new installation, make sure unit installed per specifications in the product Installation Guide.
Verify unit is not in Showroom Mode. "5hr" appears on the display if the unit is in Showroom Mode.
If an error code is present, the unit will not work. Search for the error code shown for information related to specific error codes.
If the unit still does not unlock, no further troubleshooting advice is available. Contact Factory Certified Service to schedule an appointment for repair.
DID THIS ANSWER YOUR QUESTION?

We're standing by with answers
Whether you're shopping for appliances or have questions about those you already own, we've got the resources you need. Talk directly to a customer care expert at the Sub-Zero, Wolf, and Cove service center, or connect with an appliance consultant at an official showroom near you. Get quick answers online, or reach a certified service provider or installer. And much more.
Call us at (800) 222-7820