Skip to main content
CT Electric Cooktop Showroom Mode Instructions
Topics:
How do you take an Electric Cooktop out of Showroom mode?
How do you put an Electric Cooktop into Showroom mode?
Is a service technician required to for the Showroom mode on an Electric Cooktop?
What is the serial number breaker for the Electric Cooktop having a Showroom mode?
Electric Cooktop does not work and SHR or 5HR is shown on the control
How to enter Showroom or Demo mode on an Electric Cooktop
Customer reports 5 HR showing in display
Answer:
Depending on the unit's serial number, service may be required to take the unit in or out of Showroom mode. The serial number is on the rating plate on the underside of the cooktop as shown: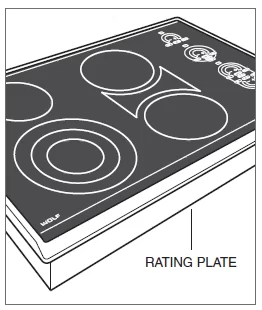 If there is a power loss, the unit will start up in normal operational mode.
120 VAC operation of Showroom mode requires a showroom kit with transformer, part number 810198.
Showroom mode is to turn off the heating elements while still giving the user complete functionality of the controls.
Starting with serial number 17000000, use the following instructions:

Entering Showroom mode:
From Lock mode, press and hold the front element Melt key for five seconds.

The control will enter the Showroom mode.
If any other key sensor detects another input signal, Showroom mode will not start.
From Lock mode, press and hold the front element Melt key for five seconds.
The control will exit the Showroom mode.

When exiting the Showroom mode, the control should reset itself and go through the normal power-up cycle as if power were interrupted.
If these steps do not resolve the issue, no further troubleshooting advice is available. Contact
Factory Certified Service
to schedule an appointment for repair.
DID THIS ANSWER YOUR QUESTION?

We're standing by with answers
Whether you're shopping for appliances or have questions about those you already own, we've got the resources you need. Talk directly to a customer care expert at the Sub-Zero, Wolf, and Cove service center, or connect with an appliance consultant at an official showroom near you. Get quick answers online, or reach a certified service provider or installer. And much more.
Call us at (800) 222-7820