Skip to main content
Wolf E Series Oven Temperature Probe Use
Topics:
How to set temperature probe feature in a Next E Series Oven
What modes to use with temperature probe
Does oven door need to be shut to use probe?
Can two probes be used at the same time in a double oven?
Suggested internal temperature for food safety
What is the temperature probe range?
Answer:
Probe receptacle location: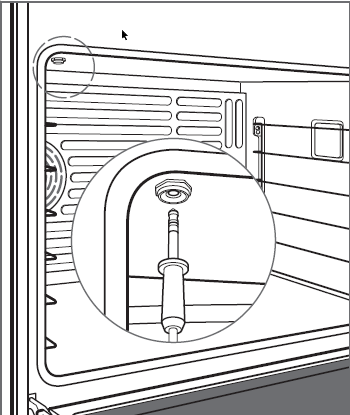 Preheat the oven to the desired oven temperature in the desired mode.

Probe cannot be used with Broil, Proof, and Dehydrate.
Do not place a rack or accessory in rack position six when using the probe, as it interferes with probe removal.

Completely insert the probe into the thickest area of the food.

When making bread, cook for approximately 10 minutes before inserting probe.

When preheat is complete, place food in the oven.
Insert the connector into the probe receptacle, then close the door.
Touch PROBE on the touchscreen.
Touch START/ENTER on the control panel to select the preset temperature.

To change the temperature, use the control panel to select the desired temperature, then touch START/ENTER.

A chime indicates the temperature is 5°F (1°C) below the set temperature.

The oven chimes and the set temperature flashes when the internal temperature reaches the setpoint.

Remove, the reinsert the probe to verify the internal temperature.

Pull straight down when removing the probe from the receptacle.
Bending or pulling the probe at an angle during removal may damage the probe and oven.

Touch the flashing temperature to clear.
See also:
DID THIS ANSWER YOUR QUESTION?

We're standing by with answers
Whether you're shopping for appliances or have questions about those you already own, we've got the resources you need. Talk directly to a customer care expert at the Sub-Zero, Wolf, and Cove service center, or connect with an appliance consultant at an official showroom near you. Get quick answers online, or reach a certified service provider or installer. And much more.
Call us at (800) 222-7820