Skip to main content
Wolf Pro Ventilation Hood Light Bulb Removal
Topics:
How to remove a light bulb for a Pro Ventilation hood
How to remove the light bulb without a suction cup remover
What is the part number for the light bulb changer?
When did the suction cup light bulb remover start shipping with units?
Light bulb changer information, part number 819223
Light bulb replacement instructions, sheet 827677
Internal Considerations / Guidelines:
Verify availability and part number accuracy using the Parts Price List.

To replace light bulbs in Pro Ventilation hoods:
1. Turn off the ventilation hood blower (fan) and lights.
2. Allow the bulbs to cool.
3. Use a soft cloth, jar-opening gripper, or light bulb changer (if included with unit). Rotate the bulb counterclockwise, and then pull down to remove it. Refer to the video above.
The Pro Ventilation hood suction cup light bulb changer, part number 819223, is included with units produced after 06/13/2011.
The light bulb changer is packaged with the use and care guide and other literature in a plastic bag.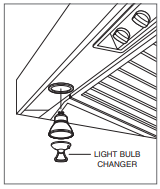 If these troubleshooting steps do not resolve the issue, service is necessary to expertly diagnose and repair the product. Contact Factory Certified Service to schedule an appointment for repair.
Only filters and cleaners are available for online purchase in the Sub-Zero, Wolf, and Cove Store.
Other parts are not available for purchase online.
Use Locator to find the Parts Distributor for your area.
DID THIS ANSWER YOUR QUESTION?

We're standing by with answers
Whether you're shopping for appliances or have questions about those you already own, we've got the resources you need. Talk directly to a customer care expert at the Sub-Zero, Wolf, and Cove service center, or connect with an appliance consultant at an official showroom near you. Get quick answers online, or reach a certified service provider or installer. And much more.
Call us at (800) 222-7820