Autumnal Fires
2008-2009 KDC Finalist
Food, relaxation and nature conspire to make this kitchen feel more like Denver than Dallas.
For year's custom homebuilder Ron Smith and his designer wife Abby—both of Quorum Design + Construct—had their hearts set on this lot in the heart of north Dallas that feels more like the woodsy glades of Colorado. Finally the property became theirs and today they cocoon here and share cooking with friends, clients and family, host non-profit events, and entertain prospective clients. The treetops outside can almost be touched, and sliders actually open up the interior to the woods and creek. "Nature is the hero in this house," says Abby. "We did not want to compete with what was going on outside, but have a relationship with it."
In addition to upholstery and cabinetry colors inspired by fall foliage, their aesthetic was based on European-inspired design. In the cabinetry this translated into sleek lines and deep toe-kicks. Sub-Zero, Wolf, and Cove integrated products were instrumental to pulling off the minimalist look. "I considered European," says Abby. "But you can accomplish a similar look with Sub-Zero, Wolf, and Cove, which are local products."
Cooking has become a brand new pastime for the couple that uses their Wolf steamer constantly and plans entire social events around their indoor grill. A custom stainless steel hood with lighting incorporated spans the 15-foot-long island and gently defines the counter space and cooktop with architectural appeal. "Everyone loves sharing the island and the cooking experience," says Abby. "And then eating the fruits of their labor!"
In this kitchen
Shop the products featured in this kitchen.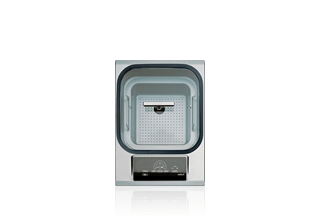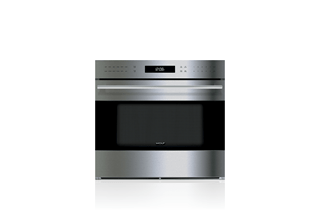 Similar kitchens
Explore other kitchens with similar styles.