Skip to main content
Topics:
Install square standoff tubular handle
Handle length, depth, stud spacing, standoff height, and diameter dimensions
Square standoff tubular handle information
Instruction sheet part number 7026122
Installation instructions for tubular stainless steel handles, part number 7025231, 7025230, 7025229, 7025228, 7025227, 7029181, 7029174, 7030668, 7029168, 7029157
Standoff part numbers 7029254, 7029257
Answer: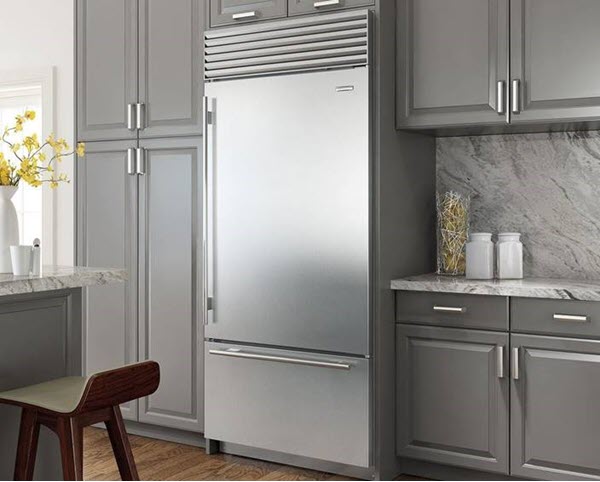 Classic Series (BI) overlay and flush inset and Designer series (IT, IC, ID) products do not come with handles. Purchase them separately.
Handles mount to the panel with a long screw that secures the standoff between the panel and handle.

Screws are provided with the handle kit and will accommodate most custom panels.
Panels thicker than standard specifications may require longer screws to be purchased locally.

Place the handle anywhere on the custom panel.

Sub-Zero suggests placing handles a minimum of 1" from the vertical edge to make sure the panel does not split from the pull of the door handle.

These tubular style stainless steel handles come with square standoffs.

Square standoff tubular handles mount without a set screw to either a door or drawer panel.

The Sub-Zero Design Guide shows a handle depth of 2-3/8" for a tubular handle. This is the depth for the Pro handle, not a tubular handle as the drawing indicates.
The handles ends are flat versus rounded on previous tubular handle models.
Standoff only part numbers also include the hardware to mount the standoff to the door.
Diameter
Handle Length
Stud Spacing
Handle Assembly Part #
Standoff Only Part #
Standoff Dimensions
3/4"
21-1/4"
18-1/4"
7025231
7026120
1-1/2" W x 1/2" H x 1" D
3/4"
24-1/4"
21-1/4"
7025230
7026120
3/4"
27-1/4"
24-1/4"
7025229
7026120
3/4"
33-1/4"
30-1/4"
7025228
7026120
3/4"
50-1/8"
47-1/8"
7025227
7026120
1"
24-5/16"
16-5/16"
7029181
7029254
2-1/2" W x 3/4" H x 1" D
1"
30-5/16"
22-5/16"
7029174
7029254
1"
36-5/16"
28-5/16"
7030668
7029254
1"
44-1/4"
36-1/4"
7029168
7029254
1"
63-7/8"
43-7/8"
7029157
7029254
DID THIS ANSWER YOUR QUESTION?

We're standing by with answers
Whether you're shopping for appliances or have questions about those you already own, we've got the resources you need. Talk directly to a customer care expert at the Sub-Zero, Wolf, and Cove service center, or connect with an appliance consultant at an official showroom near you. Get quick answers online, or reach a certified service provider or installer. And much more.
Call us at (800) 222-7820