Skip to main content
Sub-Zero Long Vacation Mode
Topics:
Classic (BI) refrigeration Long Vacation Mode
Set Long Vacation Mode
Designer (IT, IC) refrigeration Long Vacation Mode
Answer:
Classic (BI) and Designer (IT, IC) units can only be set to Long Vacation Mode if the appliance is connected using the Sub-Zero Group Owner's App.
In this mode, the freezer temperature is set to 5°F, and the refrigerator is set to 44°F.
It is not possible to set this mode on the unit control panel. It must be done through the mobile app.
Long Vacation Mode is designed for long-term non-use of the appliance (more than 1 week).
Food preservation is reduced and energy consumption is very low.
All perishable items should be removed before entering this mode.
The smart grid icon will appear, and "VA Ln" will be shown in place of unit temperatures.
See also:
For extended vacations, consider emptying the appliance and turning it off instead.
To turn off the appliance for an extended absence:

Turn power off at the control panel.
Empty the unit and block doors open slightly to let fresh air in and keep the interior dry.
After returning, the water filter should be replaced before startup.

If the home will not be heated during an extended absence, the appliance should be winterized. Refer to Winterizing Sub-Zero Products.
To set Long Vacation Mode in the Sub-Zero Group Owner's App:
Open the app.
In My Appliances, tap the appliance.
Tap the Mode tile. The Mode tile is typically set to Mode: Normal.
Tap the radio button next to LONG VACATION.
Tap Save.
The Mode tile now says LONG VACATION.
The unit will stay in Long Vacation Mode until the mode is changed on the app.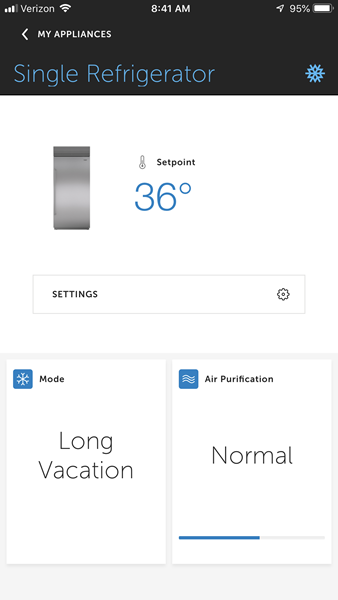 Contact the Sub-Zero and Wolf Customer Care Team at [email protected], or call (800) 222-7820, Monday-Friday, 8:00 a.m. - 5:00 p.m. CST.
DID THIS ANSWER YOUR QUESTION?

We're standing by with answers
Whether you're shopping for appliances or have questions about those you already own, we've got the resources you need. Talk directly to a customer care expert at the Sub-Zero, Wolf, and Cove service center, or connect with an appliance consultant at an official showroom near you. Get quick answers online, or reach a certified service provider or installer. And much more.
Call us at (800) 222-7820