Skip to main content
Sub-Zero Model UC-15I Ice Maker Ice Cube Size, Shape, and Weight
Topics:
What do the UC-15I ice cubes look like?
Diameter of the Undercounter Ice Maker cube
How to adjust the UC-15I cube size
UC-15IP cube weight adjustment and cube finishing time
UC-15I(P) power outage concerns
Adjusting the cube weight after a power outage on a UC-15I
Heavy ice
Jumper
P4
Add freeze time
Answer:
Undercounter Ice Maker model UC-15I(P) ice cubes are clear, wet ice cubes measuring 1-1/4". The cubes are octagonal-shaped at the top, 1-1/4" long, and 1" octagonal shaped at the base.
The weight of cubes produced by the UC-15I(P) is adjusted by adjusting the finish time.
The overall size of the cube does not change. The size of the dimple in the center of the cube is reduced, adding more weight to the cube.
The cube weight adjustment settings do not need to be reset if power to the UC-15I(P) is interrupted.
The last setting is kept in the unit memory during a power outage, so reprogramming is not necessary once power is restored.
Check Cube Finishing Time
Turn the unit OFF.
Press and hold the Power key for five seconds.
Count the flashes on the Ice light.
The light will flash once for each additional minute of freeze cycle time.
Adjust Cube Finishing Time
​Adjust in one-minute increments and allow the ice maker to run several freeze and harvest cycles, then inspect the ice cubes.
If a heavier cube weight is desired, add another minute of freeze time and repeat the process:
Turn the unit off.
Press and hold the Power key.
While holding the Power key, press and release the Clean key once for each additional minute of freeze cycle time desired.

Five minutes is the maximum additional freeze time that can be added.
Press the Clean key six times to reset the finishing time to the original factory setting (no additional finishing time).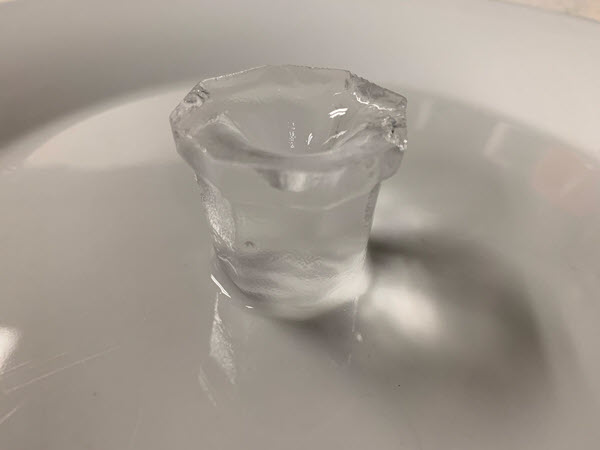 DID THIS ANSWER YOUR QUESTION?

We're standing by with answers
Whether you're shopping for appliances or have questions about those you already own, we've got the resources you need. Talk directly to a customer care expert at the Sub-Zero, Wolf, and Cove service center, or connect with an appliance consultant at an official showroom near you. Get quick answers online, or reach a certified service provider or installer. And much more.
Call us at (800) 222-7820