Skip to main content
Cooking with a Wolf French Top
Topics:
How long does it take to preheat a French top?
Can I place a wok in the center ring of the French top?
How to use a French top
Cooking with a French top
Answer:
The Wolf French top is ideal for cooking with multiple pots or pans. There is only one center flame under the cooking surface that is either turned on or off.
Reduce heat by sliding each pan to a different position to intensify or diminish the heat.
The center is the hottest, and the corners are the lowest heat output.
Keep food lightly simmering by sliding the pans to the corners.
A true rolling boil can be achieved by placing the pot of water between the high and medium heat zones.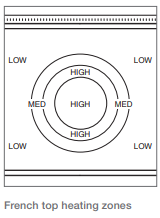 The French top is best for the serious cook who frequently prepares multiple-pot meals.
The Wolf French top takes about 25 minutes to preheat to full infrared heat potential.
Do not cook food directly on the French top surface. Instead, use pots and pans to cook food on the surface.
Do not remove the center ring and insert a wok. The rings can warp and discolor.
Color change is expected in the center of the French top.
The blue color of the top is permanent.
It may be lightened with intense cleaning. However, the next time the unit is heated. It will return to blue.
See also, Clean a French Top.
DID THIS ANSWER YOUR QUESTION?

We're standing by with answers
Whether you're shopping for appliances or have questions about those you already own, we've got the resources you need. Talk directly to a customer care expert at the Sub-Zero, Wolf, and Cove service center, or connect with an appliance consultant at an official showroom near you. Get quick answers online, or reach a certified service provider or installer. And much more.
Call us at (800) 222-7820