Skip to main content
Sub-Zero Ice Maker Fill Tube Frozen
Topics:
Why does the ice maker fill tube continually freeze over?
Why do I have to defrost the ice maker fill tube on a regular basis?
What causes the ice maker fill tube to freeze over?
What does the fill tube look like?
Can I see water flow through the fill tube?
Cause:
Water pressure fluctuations in the home or to the ice maker water supply line
Ice bin removed but ice maker not turned off
Water to unit turned off but ice maker not turned off
Jammed ice cubes
Troubleshooting:
The fill tube delivers water to the ice maker to freeze into ice cubes.
Water flows through the fill tube and into the ice mold.
Water will only flow through the fill tube when the freezer reaches its set temperature and the ice maker calls for water.
It could be several hours before this process occurs.
Defrost the Fill Tube
To defrost the fill tube, do one of the following depending on model and accessibility:
Manually defrost the freezer for 4-6 hours by turning it off. See Manually Defrost a Sub-Zero.
Disable the freezer. Refer to the following for model-specific instructions:
If the fill tube continues to freeze or the unit does not start producing ice, service is necessary to expertly diagnose and repair the product. Contact Factory Certified Service to schedule an appointment for repair.
Fill Tube Location
The fill tube is above the ice maker coming through either the back or side wall of the freezer.
Fill tube location for Side by Side units: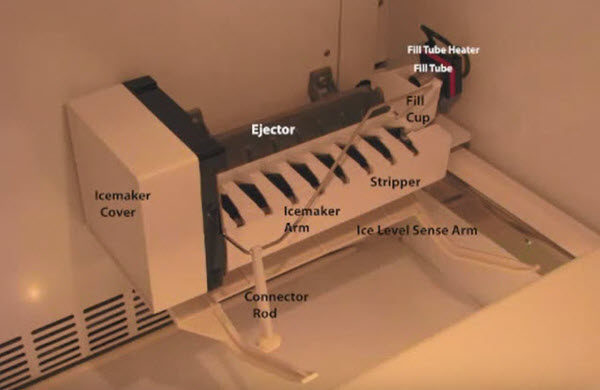 See also:
DID THIS ANSWER YOUR QUESTION?

We're standing by with answers
Whether you're shopping for appliances or have questions about those you already own, we've got the resources you need. Talk directly to a customer care expert at the Sub-Zero, Wolf, and Cove service center, or connect with an appliance consultant at an official showroom near you. Get quick answers online, or reach a certified service provider or installer. And much more.
Call us at (800) 222-7820