Skip to main content
Clean Surface Burner Caps and Rings
Topics:
Can I use degreaser to clean the surface burner caps and rings?
Are burner caps and rings dishwasher safe?
How to remove residue from the surface burner caps and rings
Best product to use when cleaning the surface burner caps and rings
Answer:
To clean the surface burner caps and rings:
Allow burner base and cap to cool.
Dampen a soft cloth with mild detergent or spray degreaser to clean. Refer to Wolf Cleaning Reference Guide for cleaner recommendations.
Do not get the ignitor wet or spray cleaner into the burner ring. Spray cleaner into the cloth.
Rinse with water.
Dry with a towel.
Blow out the holes to remove excess detergent or degreaser.
Clean burner port holes with a dry toothbrush or use a toothpick or paper clip to remove debris.

The surface burner rings and caps have a painted enamel surface.
Spilling on these components while hot can permanently stain or discolor the finish. This is normal.
Wolf does not suggest using the dishwasher to clean burner rings and caps.
Wolf does not recommend removing the burner rings for cleaning.
Wolf does not have any recommendations for refinishing burner rings.

If debris is present, use a scouring pad between the ignitor and the burner to clean and make sure the spark can be made to the burner.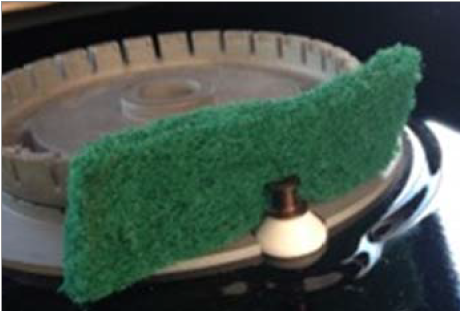 DID THIS ANSWER YOUR QUESTION?

We're standing by with answers
Whether you're shopping for appliances or have questions about those you already own, we've got the resources you need. Talk directly to a customer care expert at the Sub-Zero, Wolf, and Cove service center, or connect with an appliance consultant at an official showroom near you. Get quick answers online, or reach a certified service provider or installer. And much more.
Call us at (800) 222-7820