Skip to main content
Designer Undercounter (DEU) Door Panel and Kickplate Adjustment
Topics:
Can the Designer DEU door panels be adjusted up and down or left to right?
Can the door be adjusted for DEU units?
How to adjust Sub-Zero Designer Undercounter Refrigeration doors
Move kickplate in or out
Answer:
Designer Undercounter panels are adjustable for proper alignment.
Close the door. Make any necessary adjustments to align the panel and reveals.
For side-to-side adjustment, move the panel side to side, then install and tighten all mounting screws.
For up-and-down and in-and-out adjustments, slightly loosen the bracket screws.

Depending on the level of adjustment required, it may be helpful to loosen all of the bracket screws, which will allow for maximum adjustment.
Once the bracket screws are loosened, use a wrench to rotate the cams to make adjustments.
After the adjustments have been made, tighten all bracket screws.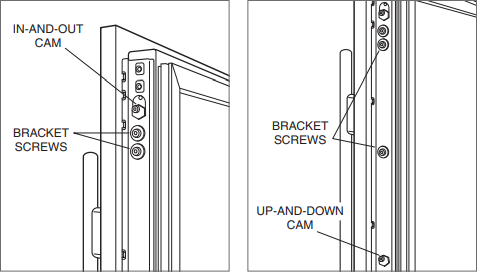 The kickplate must be removable for service. The floor cannot interfere with removal.
1. Finger-tighten the adjustment bracket nuts as shown below.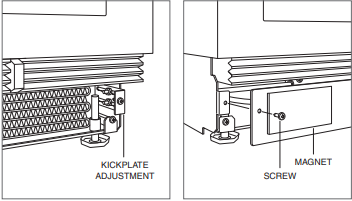 2. Make in-and-out adjustments, then wrench-tighten the bracket nuts.
3. Install the kickplate with the provided screws.
A decorative kickplate can be attached to the factory installed kickplate.
To install a decorative kickplate, remove the paper backing from the magnets and attach the decorative kickplate to the magnets.

The magnets allow the decorative kickplate to be removed if necessary.
The three rows of vented louvers cannot be covered.
A decorative kickplate cannot be attached to the outdoor model.
DID THIS ANSWER YOUR QUESTION?

We're standing by with answers
Whether you're shopping for appliances or have questions about those you already own, we've got the resources you need. Talk directly to a customer care expert at the Sub-Zero, Wolf, and Cove service center, or connect with an appliance consultant at an official showroom near you. Get quick answers online, or reach a certified service provider or installer. And much more.
Call us at (800) 222-7820