Skip to main content
Designer Series (IT, IC) Air Filter Replacement
Air purification filters are ready to be replaced whenever the indicator light begins to flash.
1. Find the air filter access door cover on the inside back wall of the refrigerator, upper left-hand side. The cover is usually between the top two shelves depending on shelf placement. It may be necessary to remove a shelf if it is positioned in front of the access door.
In Drawer units, the access door is on the left side of the upper drawer.
It may be necessary to empty the drawer in order to gain access to the door.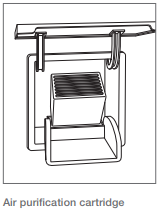 2. To access the air purification cartridge, hold the outside cover from the bottom and rotate upward (top and rotate downward for drawer models).
3. Hold the black cover from the top and rotate downward. The cartridge will pop out and can be removed.
4. Remove the new cartridge from packaging and insert with the connector pointing downward. The Sub-Zero logo does not have to be facing out. The cartridge may be installed with the logo facing inside the unit.
5. Once in position, close the black cover, then rotate the outside cover down until it closes against the back wall.
Reset Air Filter
1. Once the cartridge has been replaced, follow instructions on the control panel to reset the filter life. The cartridge life cycle will reset for approximately one year.
DID THIS ANSWER YOUR QUESTION?

We're standing by with answers
Whether you're shopping for appliances or have questions about those you already own, we've got the resources you need. Talk directly to a customer care expert at the Sub-Zero, Wolf, and Cove service center, or connect with an appliance consultant at an official showroom near you. Get quick answers online, or reach a certified service provider or installer. And much more.
Call us at (800) 222-7820