Skip to main content
Designer Series Header Panel Does Not Stay in Place
Topics:
How to install header fillers
Header fillers fall out of unit
Header fillers not staying in place
Top trim strips broken
Answer:
To install the top trim strips (header fillers):
Identify the top trim strips by the notch on one end at the
bottom; this trim strip fits on the hinge side of the unit.
Insert the outer end of each trim strip behind the vertical
side trim.
Engage the snap in the plastic side bracket and
slide the panel as far to the outside as possible.
Rotate the inner end of each panel into the side flange of
the center shroud, next to the water filter access door.
Press on the trim strip to push into place.
Units do not ship with top trim strips in place.
If the top trim piece will not stay in place, is falling out, or is broken, a new trim strip may be needed. Contact a Factory Certified Parts Distributor to order parts.
If the header panel does not stay in place after these steps are complete, no further troubleshooting advice is available. Contact Factory Certified Service to schedule an appointment for repair.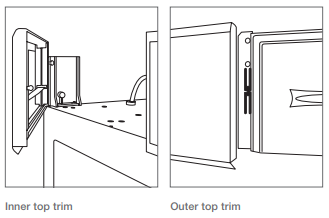 DID THIS ANSWER YOUR QUESTION?

We're standing by with answers
Whether you're shopping for appliances or have questions about those you already own, we've got the resources you need. Talk directly to a customer care expert at the Sub-Zero, Wolf, and Cove service center, or connect with an appliance consultant at an official showroom near you. Get quick answers online, or reach a certified service provider or installer. And much more.
Call us at (800) 222-7820