Skip to main content
1100 CFM Inline Blower - 808332
Topics:
Mounting instructions for 1100 CFM inline blower, part number 808332
For use with CTWH30, CTWH36, IH4227, DD30R, DD36R, PW30 - PW66, PI36 - PI66, PL34 - PL58
Ducting options for inline blower part number 808332
Static pressure charts for 1100 CFM blower motor, part number 808332
Transitions dimensions included with 808332 blower
Can an inline blower be mounted upside down or on the side?
Can inline blowers be installed in unheated areas or places that are not temperature controlled?
Static pressure
Inline blowers can only be mounted in the standard horizontal position. They cannot be installed vertically, upside down, or on their side.
Drawing of Inline Blower, Part Number 808332 includes blower box dimensions.
The direction of the ductwork discharge can be changed from horizontal to vertical in accordance with the installation instructions.
Inline blowers can be installed in attics and other spaces that are not temperature controlled. It does not matter if the space gets very cold or hot.
Included with the Inline Blower
The inline blower includes two 8" x 12" to 10" round transitions, part number 817461.

The transitions measure 9-1/8" in length.

The blower motor includes a power cord.

If needed, order a power cord replacement using part number 817394.
Part number 817394 is approximately 36" in length.

Power cord can also be purchased locally at a hardware or home improvement store.
The blower motor does not include a roof cap. Contact an HVAC company locally to acquire a roof cap if needed.
The blower motor includes a mounting kit (hanger kit). Refer to Inline Blowers Installation Parts and Kits for part number and information.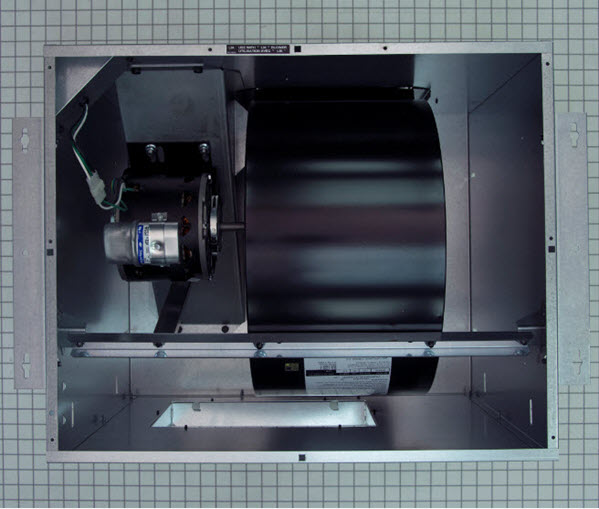 Static Pressure Information
Consult an HVAC representative for exact static pressures and most accurate information about hood and blower installation.
The static pressure chart is based on the use of suggested galvanized duct sizes.
The static pressure chart will account for angles as an approximation. Contact an HVAC representative for the most accurate information.
Contact the Sub-Zero Wolf Customer Care Team at [email protected], or call (800) 222-7820, Monday-Friday, 8:00 a.m. - 5:00 p.m. CST.
DID THIS ANSWER YOUR QUESTION?

We're standing by with answers
Whether you're shopping for appliances or have questions about those you already own, we've got the resources you need. Talk directly to a customer care expert at the Sub-Zero, Wolf, and Cove service center, or connect with an appliance consultant at an official showroom near you. Get quick answers online, or reach a certified service provider or installer. And much more.
Call us at (800) 222-7820