Skip to main content
Full-Extension Ball-Bearing Rack Information
Topics:
What is the maximum weight capacity for the full-extension ball-bearing rack?
Can the full-extension easy glide rack be placed on the bottom rack?
Can the full-extension sliding rack be used on serial numbers less than 16000000?
Easy glide rack
Answer:
Full-extension ball-bearing racks are available for Dual Fuel and Gas Ranges, L Series Ovens, E Series Ovens, and M Series Ovens.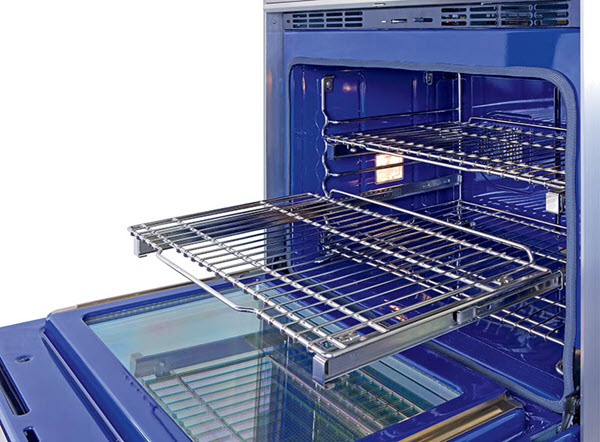 Rack Replacement and Installation
For part numbers, installation instructions, and further information, refer to:
Rack Placement - Current Dual Fuel Range, Induction Range, E Series Wall Oven and M Series Wall Oven
This rack can be placed in any rack position, including the bottom rack position.
Rack Placement - Legacy products and current GR Gas range
This rack can be placed in any rack position except the bottommost rack position.
Additional racks can be used in place of standard racks except for the bottommost position.

The bottom rack position may be used in Legacy M Series Ovens.
Additional Information
Wolf Gourmet Countertop Ovens do not have a ball-bearing rack accessory.
The racks are designed to ease sliding the rack in and out of the oven.
Wolf oven racks are made of nickel-plated steel wire.
Oven racks and supports have enough support to hold 52 lb (24 kg).
See also:
Contact a Local Dealer for further sales information or a Factory Certified Parts Distributor to order parts.
DID THIS ANSWER YOUR QUESTION?

We're standing by with answers
Whether you're shopping for appliances or have questions about those you already own, we've got the resources you need. Talk directly to a customer care expert at the Sub-Zero, Wolf, and Cove service center, or connect with an appliance consultant at an official showroom near you. Get quick answers online, or reach a certified service provider or installer. And much more.
Call us at (800) 222-7820