Skip to main content
Sub-Zero 700 Series Install Deli Drawer into Deli Shelf Assembly
Topics:
Deli shelf assembly in a 700 Series dropped, causing drawer to separate from shelf
Deli drawer not fitting back into the shelf
How to install deli drawer into deli shelf assembly
Troubleshooting:
The deli drawer assembly for the 700 Series is designed to be taken out of the unit for cleaning and is easy to install afterward. Note that the drawer itself cannot be disassembled, although it can be removed from the shelf.
To install the complete deli drawer assembly, which includes the shelf, drawer slides, and drawer, follow these steps:
Install the deli shelf into the unit. The drawer slides are attached to the underside of the shelf.
Pull the drawer slides fully forward. The drawer slides cannot be removed.
Insert the drawer at a 45° angle onto the slides, and lower and slide the drawer back into place.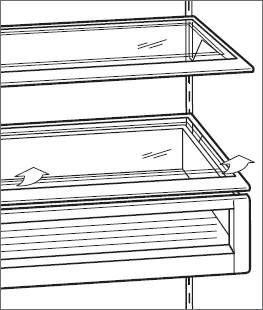 Answer:
If these steps do not resolve the issue, the deli shelf assembly might be damaged and need to be replaced. The deli shelf slides are not replaceable. If the slides fall off the shelf, order a new deli shelf assembly.
Model
Part Description
Part Number
700TR, 700TC
Deli Drawer
7016029
Shelf - RH Hinge
7014709
Shelf - LH Hinge
7015839
736 PTS # 2419464
Drawer
7016731
Shelf - RH Hinge
7016095
Shelf - LH Hinge
7016204
736 SWS # 2419464
Drawer and Shelf Assembly - RH
0000047
Drawer and Shelf Assembly - LH
0000048
DID THIS ANSWER YOUR QUESTION?

We're standing by with answers
Whether you're shopping for appliances or have questions about those you already own, we've got the resources you need. Talk directly to a customer care expert at the Sub-Zero, Wolf, and Cove service center, or connect with an appliance consultant at an official showroom near you. Get quick answers online, or reach a certified service provider or installer. And much more.
Call us at (800) 222-7820