Skip to main content
Wolf M Series Temperature Probe Use
Answer:
Set the Probe
To set the probe:
Begin preheating the oven to the desired oven temperature in the desired mode.

Do not use temperature probes in Broil Mode.
Do not plug the probe into the receptacle and let it rest on the oven rack or dangle while the oven preheats. This will damage the probe.

Insert the probe into the thickest area of the food.
When preheat is complete, place the food in the oven and insert the probe into the probe receptacle. Refer to the illustration below.

Probe and probe sensor cover become very hot; handle with a dry pot holder.
Do not let the probe touch the sides or door of the oven when in use.

Close oven door.
Touch PROBE.
Touch SET to select the preset probe setpoint temperature. To change the temperature, slide the bar to select the desired temperature. Touch SET.
An audible chime indicates that the internal temperature has reached probe setpoint.
Remove and reinsert probe to verify internal temperature.
Select OK or OFF. The oven does not turn off based on probe temperature.
See also: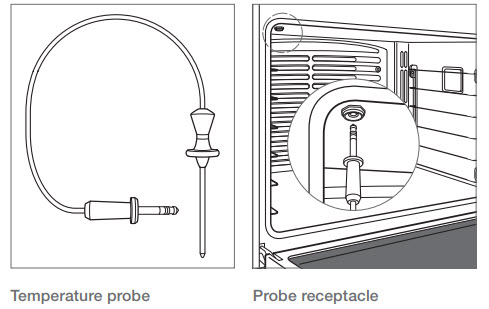 Troubleshooting
After selecting a cooking mode, "Probe" appears near the top of the screen if the probe can be used.
"Probe" remains on the screen, even if the probe is not used.
If the probe is not working:
Confirm proper mode is in use. Not all modes can use a temperature probe.
Try removing and reinserting the probe. The probe should click into place.

Be sure that the probe is fully seated in the probe receptacle before adjusting the probe temperature setting.
If any debris is noticeable in the receptacle, use a compressed air can to help remove it.
See also, Probe Shorted.
About the Probe
The temperature probe measures the internal temperature of food without opening the oven door.

The probe is designed to be used while the oven is cooking. Make sure that the probe does not directly touch the oven wall or door.
Calculating a total cooking time by weight is no longer necessary using this feature.

Probes may be used in the upper and lower ovens of an M Series double oven at the same time, if desired. Two probes would be needed.
Programming the oven probe is different on M Series Pro models than on Transitional models.

Refer to the product Use and Care Guide for temperature probe features and setting controls.
Purchase Probe
To order additional probes, or if a replacement probe is needed, contact the Factory Certified Parts Distributor in your area to order parts.
DID THIS ANSWER YOUR QUESTION?

We're standing by with answers
Whether you're shopping for appliances or have questions about those you already own, we've got the resources you need. Talk directly to a customer care expert at the Sub-Zero, Wolf, and Cove service center, or connect with an appliance consultant at an official showroom near you. Get quick answers online, or reach a certified service provider or installer. And much more.
Call us at (800) 222-7820