Skip to main content
Topics:
What kind of glass is used in Sub-Zero glass shelves?
Is the glass in the shelves tempered?
Placing hot containers on Sub-Zero interior shelves
Condensation or fogging on glass shelves
Removal of glass shelves for Classic Series (BI)
Answer:
Cleaning and Care
The glass shelves in a Sub-Zero unit are made with tempered glass.
Do not place hot pans or containers on Sub-Zero glass shelves. Allow containers to cool until they are only warm to the touch.
Condensation or fogging may form on glass shelves if the door is left open for a period of time. This happens more quickly in warm climates or on humid days if the room is not climate controlled. Refer to Moisture or Condensation in Refrigerator for more information.
Shelf frame around the glass cannot be removed for cleaning. Replace the shelf if needed. Refer to Cleaning Interior Shelves and Light Diffuser for more information.
IMPORTANT NOTE: Use care when handling glass shelves to prevent breakage or scratching the interior.
CAUTION: Glass shelves should warm to room temperature before immersing in warm water.
To remove or adjust a glass shelf:
Tilt up, then lift up and pull out.
To install or reposition:
Insert the shelf in the rails on the back wall.
Lower the front until the shelf locks into position.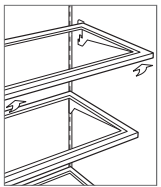 DID THIS ANSWER YOUR QUESTION?

We're standing by with answers
Whether you're shopping for appliances or have questions about those you already own, we've got the resources you need. Talk directly to a customer care expert at the Sub-Zero, Wolf, and Cove service center, or connect with an appliance consultant at an official showroom near you. Get quick answers online, or reach a certified service provider or installer. And much more.
Call us at (800) 222-7820