Skip to main content
Wolf EC24 Coffee System Coffee Bean Selection
Topics:
Coffee System jams when beans are grinding
Beans stuck in the EC24 Coffee System bean grinder
What is the best kind of coffee to use in a Wolf Coffee System?
Coffee beans in ground coffee area
Ground coffee in coffee bean area
Is there a way to use two different beans?
Can the EC24 Coffee System be used to brew tea?
Answer:
Each cup is drawn from one of the system's built-in bean reservoirs. One reservoir is for whole beans, and the other for pre-ground beans, giving the option to brew two types of roasts at any given time.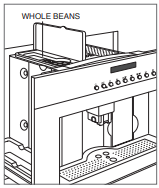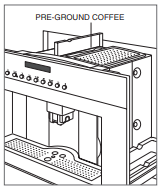 The strength selection determines the amount of coffee used.
A large regular will have less coffee in it than a large strong.
Coffee Bean Suggestions:
Recommended:
The best beans to use in the Wolf Coffee System are whole, fresh, dry coffee beans of any variety preferred.
Decaffeinated coffee beans or ground beans are fine to use with the Wolf Coffee System.
Can be used:
Flavored and dark, oily coffee beans can be used, but may cause some issues including:
Plastic parts may stain from oily coffee beans and can cause odor if stuck in the unit.
Oily beans may stick to the side of the machine and prevent proper brewing.
To use oily coffee beans in a Wolf Coffee System, pregrind the beans and use the pre-ground function instead of placing whole beans in the Coffee System.
Espresso beans should also be pre-ground.
Dark roast oily coffee beans are not required to produce a great cup of coffee. The grind of the bean is more important to coffee flavor.
Not recommended:
Pretreated or other sugared or caramelized beans are not recommended.
The EC24 is not suitable for brewing tea. Do not place loose tea in the Coffee System.
Additional Resources:
DID THIS ANSWER YOUR QUESTION?

We're standing by with answers
Whether you're shopping for appliances or have questions about those you already own, we've got the resources you need. Talk directly to a customer care expert at the Sub-Zero, Wolf, and Cove service center, or connect with an appliance consultant at an official showroom near you. Get quick answers online, or reach a certified service provider or installer. And much more.
Call us at (800) 222-7820