Skip to main content
Topics:
Handle length, depth, stud spacing, standoff height, and diameter dimensions
Pro style handle part number 7006853, 7006854, 7006855, 7006856, 7006857, 7006858, 7006859, 7006860, 7027250, 7026115, 7026116, 7026117, 7026118, 7026119
Pro handle standoff package, part number 7012153 or 7026121
Instruction sheet number 7012156 or 7026122
Answer: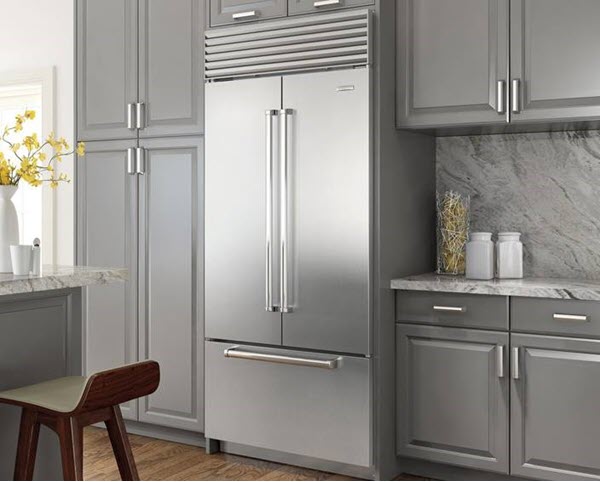 Common to All Pro Handles:
Overlay, Flush Inset, and Designer (IT, IC, ID) models do not come with handles. Purchase handles separately.
Pro handles are obround with an approximate diameter of 7/8" x 1-1/4".
Sub-Zero Pro handles come in two mounting styles.
Either style is compatible with custom panels.
Refer to the tables below for part number and installation information.
Contact the Factory Certified Parts Distributor in your area to order handles.
For information about other handles, refer to:
Installation and Part Numbers
Order the standoff kit using part number 7026121, if needed.
This information is for the Pro Handle sales accessories.
Refer to Standard and Accessory Handle Information, for stainless steel wrapped door and stainless steel accessory panel handle information.
Handle Length

(Includes Handle Standoffs)

Handle Type

Stud Spacing

Part #

Mounting
Style

48-3/8"

Door or Drawer

47-1/8"

7026115

Without
Set Screw

31-1/2"

Door or Drawer

30-1/4"

7026116

Without
Set Screw

25-1/2"

Door or Drawer

24-1/4"

7026117

Without
Set Screw

22-1/2"

Door or Drawer

21-1/4"

7026118

Without
Set Screw

19-1/2"

Door or Drawer

18-1/4"

7026119

Without
Set Screw
The mounting stud and set screw mentioned in the instructions are installed in the standoff at the factory. Neither are meant to be removed from the standoff.

A bolt is inserted through the back of the custom panel into the standoff. The set screw in the standoff then secures the bolt to the mounting stud inside the standoff.
When installed on a custom panel, the set screw for the handle standoff is not visible.
No standoff kit is available for these handles. Order a new handle if standoffs are needed.
Order the fastener kit using part number 7012153, if needed.
Handle Length

(Includes Handle Standoffs)

Handle Type

Stud Spacing

Part #

Mounting
Style

21"

Door

19 3/4"

7006853

Set Screw

17-9/16"

Drawer

16 5/16"

7006854

Set Screw

23-5/8"

Drawer

22 5/16"

7006855

Set Screw

30"

Door

28 3/4"

7006856

Set Screw

29-5/8"

Drawer

28 3/4"

7027250

Set Screw

39-9/16"

Door

38 5/16"

7006857

Set Screw

37-1/2"

Door

36 1/4"

7006858

Set Screw

21"

Drawer

19 3/4"

7006859

Set Screw

45-3/16"

Door

43 7/8"

7006860

Set Screw
DID THIS ANSWER YOUR QUESTION?

We're standing by with answers
Whether you're shopping for appliances or have questions about those you already own, we've got the resources you need. Talk directly to a customer care expert at the Sub-Zero, Wolf, and Cove service center, or connect with an appliance consultant at an official showroom near you. Get quick answers online, or reach a certified service provider or installer. And much more.
Call us at (800) 222-7820