Skip to main content
Sub-Zero Classic Series Push-In Style Water Filter Replacement
Topics:
How to remove, install, or replace the water filter in Classic (BI) models
Water filter icon appears on control panel
How to remove a microbiological or color, taste, and odor (CTO) water filter
How to replace part number 7023811, 7023812, or former part number 7005017
Water filter difficult to install or remove
Answer:
Purchase Water Filter

Replacement Instructions
The Classic (BI) Series water filter icon appears on the control panel when it is time to replace the water filter. To replace the water filter:
To access the water filter, pull out on the bottom edge of the grille assembly, and tilt the grille frame forward.
Remove the old filter by pushing the cartridge in and pull it out. Refer to the image below.

A small amount of water in the filter cartridge may spill out. This is normal.
A jar opener can help provide a better grip for a hard-to-remove filter.
If it cannot be removed, no further troubleshooting advice is available. Contact Factory Certified Service to schedule an appointment for repair.

Remove the new filter from the packaging and carefully remove the plastic caps.
Line up the cartridge so that the locking tabs can be inserted into the filter manifold.
Push the cartridge in until you hear a click.
Pull slightly on the new cartridge to verify it is securely installed.
Press and hold the filter reset button for five seconds to reset the water filter life monitor, as shown below.
After installing a filter, clear air from the system and allow the filter to help in cleaning the water lines. To do this:

For non-dispenser models, discard the first two full containers of ice.
For dispenser models, dispense several glasses of water for a period of two minutes.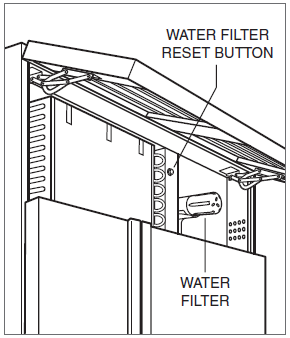 Filter Images
Microbiological Water Filter (7023811) - No longer available.

Color, Taste, Odor (CTO) Water Filter (7023812) - Current push-in style water filter. Replaces 7023811.

Refer to the product Use and Care Guide for further information.
DID THIS ANSWER YOUR QUESTION?

We're standing by with answers
Whether you're shopping for appliances or have questions about those you already own, we've got the resources you need. Talk directly to a customer care expert at the Sub-Zero, Wolf, and Cove service center, or connect with an appliance consultant at an official showroom near you. Get quick answers online, or reach a certified service provider or installer. And much more.
Call us at (800) 222-7820